Cosy Corner CAFÉ opened its doors in 2021. It is a successful student run onsite café in Ascent College. Open every Friday morning, the café is well supported by all staff and students.
Cosy Corner CAFÉ
The Cosy Corner Café team offer table service or a takeaway service each week, serving up a menu of toasties, bacon sandwiches, teacakes and much more at low prices.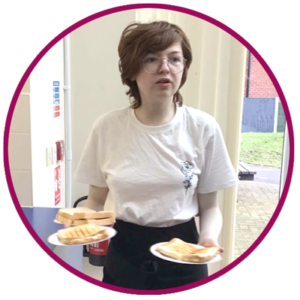 The café team run a variety of themed events throughout the year for all students and learners across the school and college to enjoy. In addition to this the team have also welcomed visitors on several open mornings. If you are interested in visiting the café, please look out for news on upcoming Café open mornings.
The onsite café gives school learners the opportunity to visit a café in a safe environment. The café environment offers the opportunity for communication and social interaction with familiar and unfamiliar staff and students. Learners are encouraged to make choices, communicate requests, make payments, and interact with others. Many of our learners have voiced that the café is the highlight of their week.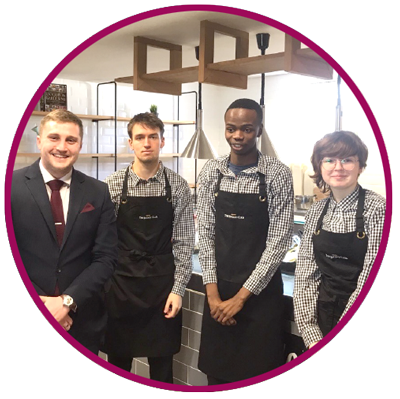 Students working in the café are working towards accredited learning in SFLE units such as Kitchen hygiene, Food and drink prep and Catering. Students learn invaluable skills and knowledge which they then transfer as part of a hospitality team at work placements such as Haydock Park. The team have also assisted at Awards events at Liverpool Cathedral and various conferences and events throughout the year.
Students gain skills in:
Food Preparation
Taking food and drink orders
Serving food and drink
Clearing and cleaning
Customer service
Communication skills
Basic money handling
Teamwork
Knowledge of:
Food hygiene certificate
Correct PPE required
How to store food correctly
How to work in the Kitchen safely
How to use kitchen equipment safely
How to control stock
How to manage time
Sam Lowe, a teaching assistant at Ascent Autism Specialist College, has received a national award from Teaching Personnel. The SEN Teaching Assistant of the Year Award recognises and celebrates the hard work and dedication of teaching assistants in Special Educational...