The print shop is run by our students and staff.  The students have been busy creating different designs for our customers who range from staff, family, friends and companies.  
Print Shop
Originally, the Print Shop began as printing for clothes, hoodies, t-shirts only. Since its inception the range or produce includes mugs, pillow cases, money boxes and now fridge magnets.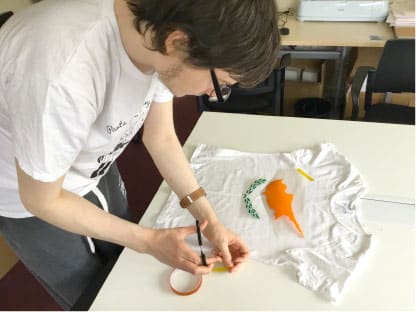 The students learn a multitude of skills throughout the process:
Making and researching the designs for the items
Uploading the designs to the in house software program
Ensuring the vinyl is sized up correctly on all the items being made
Setting the machine to cut the design
Weeding the design including removing the backing from the vinyl
Placing the design on the item and pressing.
The work that goes on in the Print Shop is part of our curriculum as the students work towards their Design Project Open Award.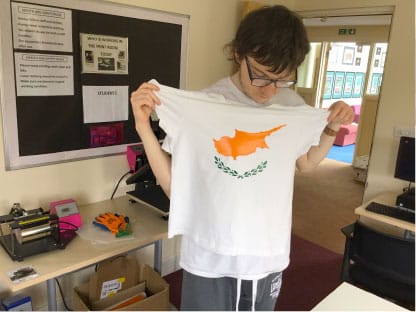 New Designs Price List

Adult T-shirts
Small
£10
Medium
£11
Large
£12
XL
£13
Children's T-shirts
Age 5/6
£5
Age 7/8
£6
Age 9/11
£7
Adult Hoodies
All Sizes
£25
Children's Hoodies
All Sizes
£15
Mugs
£5
Moneyboxes
£10
Pillowcases
Made to order
£6
For more information please contact: Gemma Sutton on 01925 224 899 or email printshop@wargravehouse.com
"Excellent service. Ordered 25 t-shirts, the quality is fantastic, and the print is brilliant. After the first discussion regarding our clubs 140th year the design was quickly agreed, and we have enjoyed seeing the students go through the process via their social media channels. We will be making a 2nd order for our midweek team sponsor. Thanks for working hard to get them done for us."
Earlestown Cricket Club
"… I just wanted to say thank you so much for Khovan's hoodie it's amazing! Great quality too! It gets washed almost daily and it's still in excellent condition.
I'll be back for more things soon!!"

Shireen
Sam Lowe, a teaching assistant at Ascent Autism Specialist College, has received a national award from Teaching Personnel. The SEN Teaching Assistant of the Year Award recognises and celebrates the hard work and dedication of teaching assistants in Special Educational...